Harmdaud: Il progetto Hardadud è iniziato nell'estate del 2016 da Andreas Stenlund (cantante nei Tme e Gravisphere) che è il solo membro della band.
La musica di questo progetto può essere descritta come melodic/atmospheric black/death metal.
Il nuovo album di Harmdaud sarà pubblicato per l'Art Gates Records il 22 febbraio 2019. Presto verranno rivelati ulteriori dettagli.
Rigor Mortis: Il cantante dei Rigor Mortis e Warbeast, Bruce Corbitt, sta ricevendo assistenza dopo che il cancro esofageo si è diffuso in tutto il corpo.
Il trattamento che sta ricevendo è specializzato per i malati terminali. Il processo non si concentra su una cura, ma piuttosto sulla riduzione dei dolori associati a una malattia terminale.
Il cantante ha rilasciato un video di dieci minuti in cui spiega la sua situazione.
Queste le sue parole: "Here I am, man — still fighting, fighting, fighting, fighting,"
"I'm never gonna stop fighting. You all know that about me. It's just tough to even use those words: hospice. I never thought I would get to that point."
La moglie di Bruce, Jenna Corbitt, ha dichiarato quanto segue lo scorso marzo: "I can't even imagine my world without my husband in it. We both feel so cheated out of our future together at this point. We try to make the best of every moment we have together, even when he feels terrible. He's such a brave and tough man… MY Superhero!"
Le cure mediche di Bill ammontano dal 2017 oltre un milione di dollari.
Dimebag Darrel: Ancora una vola, l'osservatorio OC di Santa Ana, California, ospiterà il Dimebash, un concerto tributo alla memoria di Dimebag Darrel Abbott. L'evento sarà presentato da Jose Mangin.
Quest'anno i cinquantacinque ospiti che presenzieranno all'evento sono i seguenti:
* Dave Grohl (FOO FIGHTERS)
* Corey Taylor (SLIPKNOT, STONE SOUR)
* Rex Brown (PANTERA)
* Scott Ian (ANTHRAX)
* Charlie Benante (ANTHRAX)
* Dave Lombardo (SLAYER, SUICIDAL TENDENCIES)
* Chris Broderick (MEGADETH)
* Gene Hoglan (TESTAMENT, DARK ANGEL)
* Tony Campos (STATIC-X)
* Jason Bittner (OVERKILL, SHADOWS FALL)
* Nita Strauss (ALICE COOPER)
* Art Cruz (PRONG, WINDS OF PLAGUE)
* Jason Christopher (PRONG, STONE SOUR)
* Doug Pinnick (KING'S X)
* Ra Diaz (SUICIDAL TENDENCIES)
* Sen Dog (CYPRESS HILL)
* Christian Brady (HELLYEAH)
* Kyle Sanders (HELLYEAH)
* Tommy Vext (BAD WOLVES)
* Doc Coyle (BAD WOLVES)
* Jeremy Wagner (BROKEN HOPE)
* Courtney Cox (THE IRON MAIDENS)
* Joey Vera (ARMORED SAINT)
* Gonzo (ARMORED SAINT)
* Phil Sandoval (ARMORED SAINT)
* Randy Weitzel (IN THIS MOMENT)
* Wes Hauch (GLASS CASKET)
Durante il Dimebash si esibiranno i Kill Devil Hill e Fireball Ministry.
Questo il commento della fidanzata di Dimebag, Rita Haney:"Crazy thing about this event is you never think the last one can be topped. But when this much creativity comes together in one room, dude, watch it go! It will light you up! The vibe is always so incredible. It's like that vibe you get on Christmas Day, before you unwrap your presents, and the excitement of not knowing what you're going to get. But I guarantee, it's not those shitty socks you get from your grandma every year. You're gonna dig it and leave with a smile! That's the magic 'something Dime' can create."
L'ex bassista dei Pantera, Rex Brown, commenta così:"'Dimebash', to me, is the epitome of celebrating his life and music all in one night! He was always about camaraderie, brotherhood and a killer fuckin time! 'Dimebash' smokes on."
Per acquistare i ticket dell'evento cliccate sul link. I proventi delle vendite andranno tutti in beneficenza.
Stasia Momento: La dark synth pop band Stasia Momento rilascerà il nuovo disco di studio il 22 di febbraio.
Il progetto spagnolo si è formato a Vigo nel 2010 per volere di KK Overlord e Olbap Dibasson. Gli spettacoli live della band si contraddistinguono per stravaganza e sinistre recitazioni sul palco,in pefetta simbiosi con la musica, proiezioni live e drammatizzazione inspiarata dal binomio piacere/dolore di cui i testi della band sono pregni.
Integrity: La metal/hardcore band di Cleveland, Ohio, ha rilasciato il nuovo singolo All Death Is Mine, registrato da Kevin Bernsten, mentre il processo di masterizzazione e mixaggio è stato affidato a Arthur Rizk.
La line up presente su questo brano è: Dwid Hellion alla voce, Domenic Romeo alla chitarra, Douglas Williams al basso e Dave Bland alla batteria.
Watain: Il chitarrista e cantante dei Watain, Erik Danielsson, di recente ha rilasciato un intervista al magazine australiano Heavy.
Questo è quanto ha dichiarato sull'utilizzare effetti pirotecnici durante il concerto: "The tours we did in 2018 were with full pyro production here in Europe, so we're very used to intense fucking heat, on stage at least. To be honest, now it's just problematic to perform without that heat, because it feels like something is missing."
Su come il gruppo si sia preparato per il tour australiano: "We've had to rework the entire stage show because it needs to be flyable – you need to be able to check it in on an airplane every day. That's a huge difference from how we're working in Europe. We've been playing around with ideas. All of the stage show that we have, in Europe as well, is built by the band from scratch. That's the same thing that we're doing now. I would say it's similar to writing music or anything else we do with the band — it's a thing we devote a lot of time to and meet and exchange ideas and make sketches. It's a creative process, just like writing an album."
Su come sia stia diventanto difficile scegliere i brani da inserire in scaletta:"It's a challenge, but it's a good challenge. I consider it more a privilege than anything else to have so much to choose from. What we did on the latest European tour, we changed the set list pretty much every day. We had about 30 songs rehearsed, and then we pick and choose for what feels right for the mood that we are in and the venue. Everything like that is taken into consideration when we're figuring out the set list for the night. We write it on the same day that we're going to perform. When we've seen the venue and sometimes we feel that maybe if it's a huge hall or theater-like, then maybe that's more fitting for the more epic and grandiose songs, while if it's a small club, we want to do something a bit more in-your-face. It's a challenge, but at the same time, it's good to have so much to choose from… Most of the songs are changed from night to night, so we will try to keep it like that, partly because we want to keep things a bit challenging for ourselves. We don't just want to do the same thing night after night. Also, there's always people that travel and see more than one show, and it's cool if it's different from night to night."
Su come il materiale estratto dall'ultimo disco, Trident Wolf Eclipse, è stato recepito in sede live: "Very good, I would say. The whole album was written in a bit of a live state of mind, you could say. In the creative process for this album, we were exploring what would happen if we brought the live kind of energy and mindset into a studio environment, and took it from there. A lot of those songs, they come out very naturally. It's been a very good album to tour with like that… Every recording we've done is quite different, but yeah, it did definitely change the approach that we had in the studio. We didn't dwell so long on every decision that we had to make. If we wanted an effect for the guitars, we used a pedal instead of adding it afterwards in a computer or whatever. That was a bit of a game-changer — it was a much more direct approach, I would say, and less contemplative and less room for over-analyzing things. It was more of a straight-for-the-jugular kind of approach."
Sui prossimi piani della band:"We're going to continue touring until August, but we also have breaks that we have discussed using for writing. We're definitely hungry to write more material. 'Trident Wolf Eclipse' was, to a certain extent I would say, a lot about getting a lot of shit out of the system — a lot of ideas that had been lying around [and] a lot of things that we just wanted to get out there and then. Once that was done, my fingers, at least, immediately started itching for writing new stuff. That's definitely in the crystal ball."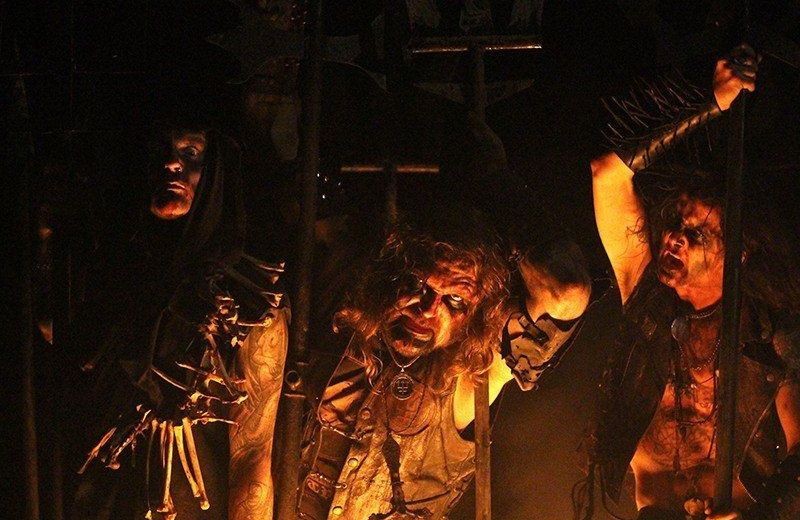 Metallica: Con il player che segue è disponibile il video dell'esibizione live per il brano The Day That Never Comes, eseguito in occasione che i Metallica hanno tenuto il due dicembre a Spokane Arena in Spokane, Washington.
Il brano The Day That Never Comes è presente sul disco Death Magnetic, rilasciato il 12 settembre 2008 dalla Warner Bros Records.
Saor: L'atmospheric black metal band britannica ha pubblicato il video per il brano Bròn, estratto dal prossimo di studio Forgotten Paths, in uscita per l'Avantgarde Music il 15 di febbraio 2019.
Tutti i brani del disco sono stati composti da Andy Marshall, unico membro della band, eccezione fatta per Exile, canzone composta da Mirko Albanese e Glorya Lyr ed eseguita dalla stessa Lyr.
Inoltre, nella nuova prova di studio appariranno svariati ospiti speciali: Carlos Vivas alla batteria, Neige (Alcest) alla voce per il brano Forgotten Paths, Sophie Rogers alla voce per Bròn e per lo stesso brano alla cornamusa Kevin Murphy.
Tutte le parti di violino sono state create da Lambert Segura.
L'artwork di Forgotten Paths è stato realizzato da Atterigne.
Il processo di masterizzazione è stato affidato a Justin Weis nei Trakworx Mastering & Recording, San Francisco, U.S.A.
Le registrazioni e l'editing è a cura di Reni McDonald Hill nei Fortriu Studios, Falkirk, Scotland.